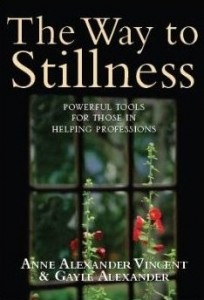 A beautifully created book. Easy to read, featuring a photo on every other page.
Mother-daughter co-authors, Gayle Alexander and Anne Alexander Vincent, present Gayle's work as the founder of Nashville, Tennessee-based Spiritual Journeys for Women and their joint efforts leading retreats on spirituality and meditation.
The Way to Stillness: Powerful Tools for Those in the Helping Professions is a narrative of the authors' work around the Love Motif, a concept that encompasses being present with and unconditionally accepting of another in order to free that person to make positive changes in his/her own life.
Alexander and Vincent's co-authored book remind me of Naomi Feil's The Validation Breakthrough, which emphasizes that, as caregivers, we must accept what our loved ones with dementia experience instead of trying to force them into accepting reality as we see it. (If our care recipient with Alzheimer's believes the sky is red, then it is!)
Highlights of The Way to Stillness include:

p. 16 Since counselors are entrusted with very private details of people's lives it is important to be "totally comfortable with every aspect of another person." To achieve this, be fully present with them.

p. 75 Take time to eliminate distractions each day that pull us off center in order to arrive at a place of stillness.

p. 97 Although the co-authors follow Christian faith, their Love Motif emphasizes presence—"a common denominator in human relations" regardless of religion or belief.

p. 123 In order to help (and accept) others, we must first accept ourselves.

pgs. 136 – 139 Courage is to "believe in someone when they don't believe in themselves." Alexander adds: "… to submerge myself into a client's circumstances and be willing to be drowned, wiped out, and obliterated by them." Goodness! It's amazing Gayle was in practice for fifty years!

p. 163 Accepting disappointment as HISappointment.  When we grow disappointed in something that happens in our lives, Alexander, recommends changing one letter to "turn a negative into a divinely inspired challenge."

p. 179 Instead of focusing on the who or what is right, look instead for what is good behind someone's behavior.
Because of the subtitle: "Powerful Tools," I thought this would be a great tool for stressed-out and overwhelmed caregivers.
I would have liked to see the authors integrate their combined seventy-five years of experience across three to five major tools (for a book of this size–about 100 pages of text across 206 pages). Offering tips at the end of each section would, in my opinion, enable those in the helping professions and others to apply the tools to their work and lives.
As it stands, it is a model of inspiration.
Reviewed by Brenda Avadian, MA on July 9, 2010
Editor, The Caregiver's Voice Book Review