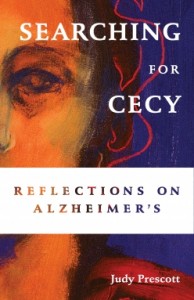 Actress and poet Judy Prescott draws her family together in this powerful tribute of artistry to her mom, Cecy.
Searching for Cecy: Reflections on Alzheimer's features twenty-nine of Judy's poems carefully paired with photos of multi-media artwork from her family, including nieces, cousins, and in-laws.
As a long-distance caregiver, Judy artfully recalls memories of her mother's youth through gradual loss.
Highlights:
Proof and Vanishing—poems of coping with loss paired with acrylic and watercolor, asking what kind of magician would allow a world devoid of Cecy.
Firefly, my favorite poem of hope and yearning for that moment when the light of love flickers within the darkness of dementia.
Cecy's younger years when she learned to make Fishing Nets to catch her when her relationships fail.
Bon Voyage and "Let's just get home," she said… touching poems of holding on versus letting go.
Fledglings—paired with Cecy's sister-in-law's bass wood carving, Judy's poem of mother bird's vigilance and sacrifice in search of hope after her fledglings fall out of the nest while she gather's food.
Irony Lost—a joyous poem yet sad. Judy–the irreverent child–is lost to Cecy.
Whether or not you enjoy poetry or art, Searching for Cecy serves as an example of how one family copes and even receives a therapeutic uplift with a creative tribute to a loved one's memory.
Brenda Avadian, MA
Alzheimer's / Dementia Caregiver, Expert Spokesperson, Coach, and Author
Editor, TheCaregiversVoice monthly Newsletter and The Caregiver's Voice Book Review