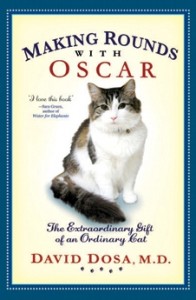 How does he do it?
Trying to answer the following question prompts geriatric physician, Dr. David Dosa, on a quest.
How does Oscar, an ordinary cat in a nursing home, know who is going to die next?
Attending physician at the Steere House, Dr. David Dosa learns more about Oscar's talent and the comfort he provides families during their loved one's final hours.
While Dosa searches for answers, we are taken along for an enjoyable "read" as we learn more about the residents' lives (e.g., a couple who met in the concentration camp, a noted composer, a single mother who raised her son—the outcome of an affair that lasted 50 years), their families, and the diverse ways they cope (e.g., anger, guilt, fear).
As Dr. Dosa is increasingly involved in the families' lives, he too is affected by their loss. He observes:
A relationship between two people is made up … of invisible things:
memories, shared experiences, hopes and fears.
When one person disappears, the other is left alone,
as if holding a string with no kite.
Along the way, we also learn about Henry, the first cat at the Steere House whose persistence finally won over the heart of the administrator. Henry cast his feline charm among the staff and residents. Late in his life, the staff thought Henry had succumbed to  symptoms of dementia and spared no effort to care him as they did the (human) residents.
When Oscar made his debut as a kitten in 2005, he too had to overcome obstacles before he and his fellow felines established residence at (and control over) the Steere House. (Cat lovers will understand.)
Over the years, the cats have served noble purposes; such as interacting with and providing comfort to the staff and residents, while serving as a warm and welcome distraction for visiting family members.
Meanwhile, we witness Dosa, a physician, taking time to care for his patients with compassion as he tries to understand more about their diseases, their lives, and how and their families cope. And it's not just the patients he cares for; he and his wife, Dionne, now care for her mother with dementia.
Dosa offers caregivers tips at the end of Making Rounds with Oscar, including the need for caregivers to take care of themselves, first. He also urges all doctors to better inform their patients about what to expect and even to offer families (who want to know) an estimate of their loved one's lifespan. He finds that families are not as concerned about the label of the disease or illness; but rather how their loved one's ability to function will impact their lives.
So how does Oscar do it? Dosa offers some thoughts in the closing chapters.
A FUN book to read!
Reviewed by Brenda Avadian, MA on June 21, 2010
Editor, The Caregiver's Voice Book Review