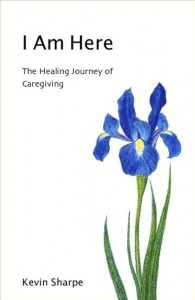 Kevin Sharpe, director of the Center for Body-Mind Therapy, used Phoenix Rising Yoga Therapy while being a caregiver for his father. His 77-page book helps caregivers take care of themselves in order to better care for others.
While books are written about how best to care for someone else,  I am Here: The Healing Journey of Caregiving is for those of us giving the care. It speaks to the heart and soul of caregiving.
As a caregiver, I read, thought about, and reread parts of I am Here while trying to digest its meaning.
Through his book, Kevin Sharpe, spoke directly to me.
I read the book twice and started feeling better about myself–calmer and better able to cope with daily life.
Below are the highlights that really helped me.
HELPFUL HIGHLIGHTS
Chapter 1 – I am here for you.
To get to one's "inner landscape, … we only need to pause. It's a simple thing – taking a pause." This is hard to do. Pause and become aware of what is going on in my own mind. Listen to myself and see what is happening now. Making an effort to do this made a positive difference for me.
Sharpe writes, "There is a wordless truth … under all of this intensity of life that a caregiver slowly begins to sense. It's wordless … because it's a truth that is simply too big for words." I had to think about this one. Although, my truth is likely different than yours; once we figure out our own truths, we find the strength to keep showing up.
"When will it stop? During the first eight months of my caregiver's life, it became a mantra, repeated on some level almost constantly." Author, Sharpe, admits this was the wrong question. He should have been asking "What's happening now?" Only by living in the moment and learning all this moment has to offer, can we begin to heal ourselves.
Chapter 3 – I am here with you.
"When we shift into the role of witness, we soften. We open onto experience. We expand our awareness from being solely focused on ourselves to authentically being present with the person we are caring for." When I pay attention to what's happening now, and allow myself to feel my emotions, I am able to be quiet and let my mom have her own experience.
Chapter 5 – I am here
"It is startling how quickly, in terms of linear time, our worlds can change. In the space of 15 minutes on the morning my father passed, I stepped from one world into another." The author calls this the in-between space. "For all of us who are caregivers, understanding how to access this in-between space is essential to our own healing journey." I continue to work on finding my in-between space. As I get better at finding it, I feel more centered.
Sharpe's I am Here, gives us caregivers insights into ourselves if we remain open to alternate therapies.
Kathleen Parenteau
The Caregiver's Voice Guest Reviewer