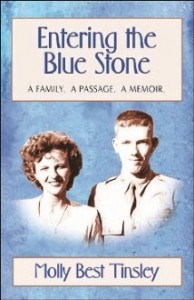 Molly Best Tinsley gives us a touching memoir of a family's passages through life in Entering the Blue Stone.
Bill Best was a USAF General who found the right way to do everything then  made sure his wife and four children learned how to do things right, too. His wife, Evelyn, remained the loyal military wife for most of their lives except for a few celebrations of her own achievements in writing and teaching.
Author Tinsley writes as a narrator from an observer's point of view about the Best family's life adventures, beginning in her youth when her father taught his children the right way to handle an oncoming wave along the Jersey shore through the end of her parents' lives with Parkinson's and dementia.
Bill believed in hard work and that anything could be made right if enough effort were given to it. As his career took off in the Air Force, the family moved from the U.S. to Japan then Florida, France, and Germany before finally settling back in the U.S. in a small southern Illinois city. Bill served as mayor of this city near St. Louis before retiring for good.
Next, Bill tries hard to stave off the paralyzing blow of Parkinson's, but his efforts are no match. Soon, the family's boss rules less as he struggles to hold life together for him and his wife. But his wife can't help as dementia loosens her grip of reality.
In 183-pages, Tinsley narrates sixty years of her family's life in a way that invites readers to freely choose the family member they best identify with. Her writing shines light on each character, painting authentic voices in a refreshing approach that preserves each family member's dignity, except for one. Absentee and troubled son, Bill Jr. is bi-polar and abuses drugs. When her mother reminisces about Billy in an endearing way, Tinsley dips into the first person, reacting negatively.
Writer Molly and her sister and lawyer Cathy often coordinated care from the East Coast, while their youngest brother and scientist Chris eventually became the primary caregiver after the three children moved their parents to Chris' home in Durham. Shortly after, the family helped Bill and Evelyn move into the best independent living suite on the top floor of a nearby continuing care facility.
Tinsley's Entering the Blue Stone, touches on three inescapable truths–

No matter how much we've achieved during the prime years of our lives, we will all grow older, frailer, and need care.
No matter what our economic position, we can't guarantee quality care. We need an attentive advocate.
Each person has his or her own agenda. The unqualified Executive Director placed people based on the need to fill sections of the facility. Meanwhile, doctors who wanted to further their research, freely administered Haldol without the family's consent, rendering Bill into an infantile human being. (The significance of having an advocate can't be overstated.)
Entering the Blue Stone, a title signifying a Native American tradition that you'll read about in the book, proves to be refreshingly worthwhile reading for families who want to grow more aware of the range of care a loved one may receive in the event a preemptive strike becomes necessary.
Brenda Avadian, MA
Editor, TheCaregiversVoice monthly Newsletter and The Caregiver's Voice Book Review