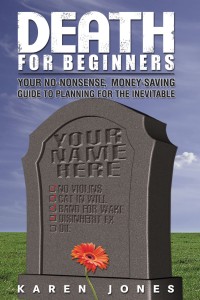 Death for Beginners: Your No-Nonsense, Money-Saving Guide to Planning for the Inevitable is a practical book on a difficult subject. It is a valuable resource for anyone dealing with the death of a loved one.
The book is divided into eight chapters, covering a range of topics. Examples include:
Why you need a will.
What to do with the body.
How to deal with grief.
Each chapter offers specific information and resources for the topic discussed.
Author Karen Jones writes in an easy to understand format that is both thorough and humorous. She lists the pros and cons, costs, and pertinent facts associated with each topic. She even has a "Help Me Choose" feature for topics such as burial, cremation, and types of funeral services. The companion website, DeathForBeginners.com, gives the reader access to downloadable worksheets from the book, chapter information updates, and additional resources.
Her sense of humor makes it easier to digest a difficult subject.
When discussing casket options for example, she notes that you can buy caskets shaped like kites, surfboards, or beer bottles. Who knew? Death for Beginners is filled with many such examples of playful yet practical information.
The appendix features worksheets to help with the many decisions before and after death. Each worksheet refers back to the relevant chapter in the book. The appendix also includes general resources such as books, organizations, and websites.
A glossary at the back offers a handy reference for terminology used throughout the book.
We all die at some point. Death for Beginners will make it much easier for you and your loved ones to make the necessary arrangements when the time comes.
Eric Riddle
The Caregiver's Voice Guest Reviewer