I wish I had these interactive books for memory impaired adults while caring for my father. I know he would have spent hours perusing the photos, reminiscing about things deep in the recesses of his mind.  For example, the Statue of Liberty picture in the America book would have prompted memories of his experience coming to America through Ellis Island.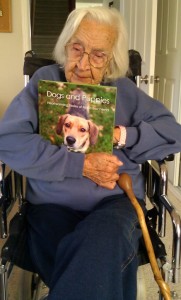 These picture and large print books by Matthew Schneider and Deborah Drapac, BSN, RN at Shadowbox Press stimulate answers to questions we may not even think to ask.
Take Evelyn, who was a caregiver to her husband until his passing over a decade ago. During recent years, she's been living in a residential care home. I gave her the Dogs and Puppies book knowing how much she loves animals—especially, rabbits and cats. However, Shadowbox Press the publisher of these creative interactive books doesn't (yet?) offer a picture book with cats or rabbits.
Upon opening the Dogs and Puppies book and looking at a few pictures, Evelyn began talking about her dog Tsar. As she paged through the book, she talked about the other dogs throughout her life. I've known Evelyn for thirteen years and never knew dogs had been a part of her life. What a delight to see her smile as she recounted parts of her life that would have otherwise been lost.
Since not all the residents can read, I began reading from the Bible Verses book to the eldest resident, whose smile grew larger as she recalled her childhood— "Papa" would work hard all day and in the evenings the family would gather 'round and read from the Bible.
These are just two of the eight books by Shadowbox Press. Others include: Colors, Wild Animals, Fun and Games, Flowers, and Seasons–all common and easy-to-discuss topics.
What a wonderful way to spend time with our loved ones.
Each of the eight books is organized the same. Brief stories (less than 100 words) with large photos comprise the major portion of each book. In the back, are thumbnails of each photo with conversation starter questions (both closed- and open-ended) followed by a section of activity ideas—like taking a walk in a dog park or visiting a church.
Although the authors' biographical information is not included in these books, the website includes the following:
At Shadowbox Press, we have collaborated with a team of writers, artists, photographers, librarians, health-care professionals, and most importantly, individuals and families, to develop a series of interactive books developed specifically to engage [adults with memory loss].
See all of the eight books at Shadowbox Books that Engage and Comfort.
Brenda Avadian, MA
Alzheimer's / Dementia Caregiver, Expert Spokesperson, Coach, and Author
Editor, TheCaregiversVoice monthly Newsletter and The Caregiver's Voice Book Review