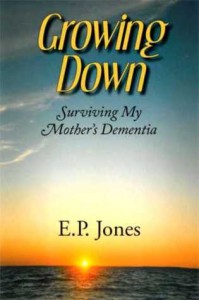 Former teacher turned caregiver and author, Pat Jones, offers an intimate look at caring for her mother affectionately referred to as Baba, as she steadily loses her independence and self to Alzheimer's.
Jones, like many caregiver-turned-authors, shares recollections of self-sacrifice bordering on heroism in order to provide the best care she can for her loved one. At the same, time she retreats from day-to-day social interactions into her remote Canadian country home where she feels lonely and insecure about whether or not she is making the right decisions for Baba.
Growing Down: Surviving My Mother's Dementia chronicles eight years of Pat's recollections caring for her mom with excerpts from her diary, which vividly illustrate the day-to-day vacillations of caregiving.
Pat Jones' mother was born in 1914, the sixth of twelve children. She was an independent person who meticulously monitored nearly all aspects of her life. While a nurse she emphasized charting patients' prescription medications. Even in retirement she insisted her daughter do the same. Ironically, as dementia's grip tightened, she overdosed on her own medications.
Pat relates the daily ups and downs of caregiving in detail. What's impressive is how similarly caregivers' journeys unfold. While the details may differ the patterns are the same. While Pat attends to Baba's increasing care needs, she neglects her own health. She learns almost too late, that she has cancer. Weakened by the treatments, she has to place her mom in a home while she recovers. However, once she regains her strength, she brings Baba home to live with her, again.
As the disease progresses, the challenges get to be too much. Incontinence is a major burden on caregivers and Pat describes the pungent urine smell locked in soiled clothing and bedding and the daily loads of wash that disable her septic system. She describes her mother as suffering from periods of "mind blind." She doesn't see or comprehend. Pat describes an incident when her mother grew angry and even got out of bed to throw something at Pat after insisting on wanting a glass of water despite the fresh glass of water sitting on her night stand. Paranoia strikes as she interprets the wood stove's flames shadows dancing on the walls as Pat dancing naked with her son-in-law.
Despite the confusion, anger, and embarrassment, Pat admits that a fleeting moment of joy with her mother easily erases all negativity.
Sometimes, while reading caregivers' journeys, one tries to imagine what the people look like. Growing Down satisfies this curiosity with over twenty family photos.
Pat also offers helpful tips throughout.
There can rarely be too many stories about caregiving. Each expresses uniquely what caregivers need while increasing awareness and understanding among others—especially well-written ones like E.P. Jones' Growing Down.
Reviewed by Brenda Avadian, MA on March 6, 2010
Founder, TheCaregiversVoice.com
E.P. Jones, author writes:
Dear Brenda,
I wish to thank you so very much for taking the time to read my book, Growing Down…Surviving My Mother's Dementia, and to write a review on Amazon.com.
I appreciate your sensitivity to the subject matter and your expertise in reviews.
Thank you.