Surviving as a caregiver is especially significant when caring for loved ones with dementia and Alzheimer's who can no longer communicate meaningfully. Brain impairing illnesses creates a greater challenge for caregivers than caring for those who still have cognitive abilities.
The second part of this three-part series on Surviving Caregiving – Stress and Burnout Symptoms concluded with my husband and I exploring options of in-home care, board and care, assisted living, and nursing care for my father. We didn't know what else to do. We were showing signs of Alzheimer's trying to keep up with his care!
Placing a loved one in a home or in a care community may take away the edge of stress
but doing so doesn't fully reduce one's caregiving responsibilities.

Once we placed my father in a nursing home–the best care option in our community for an avid wanderer–we were still weighed down by legal and financial responsibilities. An overwhelming amount of paperwork remained including our threat to sue the nursing home for negligence after my father's Great Escape. There were also the time-consuming and stressful obstacles placed in our way by my siblings.
Sleep was interrupted by our need to answer every call, including the misdialed calls to the local homeless shelter.  Every call was answered. What if this were the call? What if my father had an emergency? We rarely felt rested.
We were still showing signs of caregiver dementia due to worry. And we reverted back to eating one meal a day, which we topped off with a drink  of wine or beer to take the edge off.
To survive caregiving, we needed to take serious steps to care for ourselves.
Caregiver survival is a recurrent theme because a significant number of caregivers over the age of sixty-five die before they finish caregiving.
We must must carve out time for self-care otherwise we won't be around long enough to finish caring for loved ones.
Self-Care for Other Care
Oftentimes, we get so engrossed in providing care we try to be a superhuman until our bodies fail us through cancer, sickness, or other ailment, reminding us that we too need care.
These days, whenever a caregiver gets so overwhelmed and stressed, I ask: Who will care for your loved one when you are gone?
Too many caregivers die before they're finished caring for their loved ones. If those are the survival odds, I'd rather have someone else help care for my father–whether in-home care, assisted care, board and care, nursing care. Caregiving is not a life sentence (although it may feel like one)! Remember the average length of time a caregiver cares for one with Alzheimer's is 2373days or six-and-one half years.

Here are 3 TIPS to implement immediately to survive and even thrive as a caregiver.
1. TAKE A RESPITE.
You deserve a break (as the popular ad for a fast-food chain says).
Take a break! Whether you make arrangements for a week, a few days, or even step outside for 5 minutes to breathe in some fresh air and get a change of scenery, be sure you step away from the task at hand periodically. Martyrs die. Self-caring caregivers survive. Everyone can step away for 5 minutes, This might mean taking an extra minute or two while using the bathroom! So be it. These minutes away can often make all the difference.
2. LEARN AS MUCH AS YOU CAN about your loved one's disease, condition, or illness.
Visit organizations' websites for information. Click on The Caregiver's Voice Resources and Links for contact information of local, national, and international resources.
Attend support groups–in person or online. Get involved in chats. Call a friend. With information and others' support, you'll know what to expect and not feel so alone.
3. IMAGINE THAT YOU NEEDED CARE for the same condition as your loved one.
Read that bold sentence once again. This simple change of thinking goes a long way toward helping you find ways to provide compassionate care without feeling so burdened and with few regrets. This goes beyond the Golden Rule (to treat others as you want to be treated). Remember, you're healthy and can think for yourself. Your loved one is not and cannot think clearly, which makes him/her insecure, fearful, and even angry. Once I was able to step into my father's shoes and really imagine what it would be like to lose my mind and everything in my world, it changed everything in the way I cared for my father.
Click on text links for a brief respite and stress reliever as you read other caregivers stories of finding the JOY.
Laughing with others helps lighten our load. For your own copy, click on the book covers.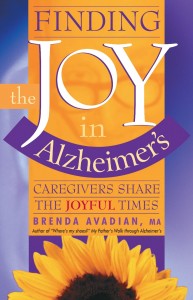 EXCERPTS from Finding the JOY in Alzheimer's: Caregivers Share the JOYFUL Times

EXCERPTS from Finding the JOY in Alzheimer's- When Tears are Dried with Laughter
Click here for more  Tips for Caregivers
To survive as caregivers we must realize
some of us will continue serving as caregivers after our loved one is gone.
that stress and burnout are normal but not necessary.
that caring for ourselves will ensure we have enough reserves to care for others.

Additional Informative resources –
RADIO interview: Can I Survive as a Caregiver with Brenda Avadian, MA
This was a fast-paced 30-minute interview where we discussed

how my husband and I became caregivers–not recommended!
whether or not we were in denial, initially.
why my siblings and I were unable to work together.
getting a power of attorney.
the support services we used.
the story behind the title "Where's my shoes?"
the key to our survival–it was close!
we found the JOY–Hint: It's in the little things!
3 key TIPS for Caregivers
Thriving as a Caregiver by Laurie Pawlik-Kienlen in Canada's Health Magazine, Alive.