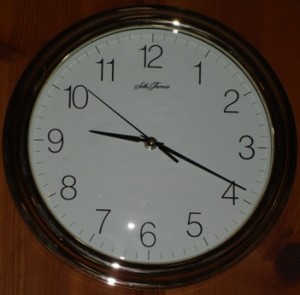 Have you raced to be on time for your appointment only to learn the person is not there?
If you're like most of us, it's happened to you…at least once.
It's downright irritating, isn't it?
You rush to wrap things up before racing out the door and drive fast (even risking a speeding ticket) to make sure you're on time. You arrive to learn that your rushing was for naught. You either have to wait an hour or the appointments desk neglected to record your appointment.
It happens!
What do you do?
Take an example from the health industry.
Do you get those automated calls that confirm your appointment a day or two before you're scheduled to see the doctor?
Do the same thing.
Whether you have an appointment with the physical therapist, car mechanic, or are meeting a friend.
Save time – Call in advance
Make sure you receive a return call if you leave a voice message.

You might be surprised to learn that even though you secured an appointment with the physical therapist or specialist, your the referral never made it from your primary care doctor.
Call first to confirm.
You'll be surprised at the glitches you might encounter as I did.
After calling to set an appointment with the physical therapist, I called a day before to  ensure they received the doctor's referral. They were confused. They didn't even have my appointment on their book! After 45 minutes of phone calls (mostly on hold) we discovered the doctor's nurse sent it to their default listed therapist instead of the one we agreed I would visit. I saved myself a trip into town.
Even if you don't have to leave home or the office, and have a telephone call scheduled, it's best to confirm a day or two in advance. You can then be sure you're making the best use of your time.
BONUS TIP: Cluster your appointments.
Don't schedule just one thing to do when you leave. Plan to do two or more things when you make the trip into town even if you're within a few miles. Your time is worth saving.
It's at least a 30-mile drive into town for me. I usually put together an ambitious list of four to six stops each time I go into town. When I cared for my father, I'd do the same thing. Even though it took a little longer, the joy he got from the outing was worth it. The older I get the fewer items I'm able to accomplish, but I manage to do at least two!
I made an appointment to see a nursing home administrator. We hadn't seen each other in over a year. Even though we kept in touch by phone or eMail he had gotten married and we had some face-to-face catching up to do.

We both confirmed by eMail a day or two before.

I arrived (without calling that day) only to find the lights off in his office and the door closed. His staff said I missed him by 30 minutes. He later apologized explaining he was experiencing pain and went home early.

Fortunately, I had other things planned to do in town and the 68-mile round trip was not wasted.
With the prevalence of mobile phones it's easy to call.
I have called on the way to an appointment only to let them know I'd be arriving 10 minutes late. Letting them know as soon as possible enables them to make plans such as taking the next appointment since I'll be arriving late. On two occasions, I called on my way into town to learn that the doctor was called away on emergency. I had the choice to either turn back or, since I was already at the edge of town, to take care of other items on my list.
Now, imagine when you're caring for a loved one who doesn't want to leave home. If you don't confirm in advance, how frustrated will you feel after getting your care recipient ready to leave the house only to discover your efforts were for naught?
Save yourself aggravation and the headache. Save time. Call to confirm a day or two in advance.
Brenda Avadian, MA
Alzheimer's / Dementia Caregiver, Expert Spokesperson, Coach, and Author
Editor, TheCaregiversVoice monthly Newsletter and The Caregiver's Voice Book Review