In order to survive, caregivers must take a RESPITE from time to time.
One of the biggest obstacles faced by caregivers is the feeling that there is no time to take care of oneself.
If you don't take care of yourself, you may not be alive to finish caring for your loved one...and then what worth will your sacrifice have been?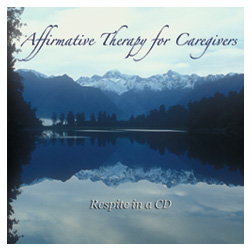 This is why, in Tips for Caregivers, Tip #6 is Seek respite, even for five minutes.
When feeling overtaxed and struggling to think straight, seek the quiet comfort of another room and listen to Affirmative Therapy for Caregivers.
What's in Respite in a CD?
A gentle acoustic guitar melody unfolds.
Next a soothing and affirming message is read above the music.
Excerpts include–
Imagine that you are sitting next to a gently rippling stream…
soothing sounds of the water…
see how the current gently washes over and around the rocks and any obstacles along the way.

You are here to help someone who cannot help themselves…
You may be the only source of love in this person's life at this moment…

Fill your heart with love for someone who cannot help themselves…
Know that they are responding to your healing gift.
Narrated by Barbara Klein-Robuck, MS, RN with music composed and performed by Mark Romero, this hour-long Respite in a CD developed with Donna McCullough, PhD and based on the work of Barbara Derrick, PhD, will bring peace to you in as little as five minutes.
Whether you're totally stressed and running crazy or feel depleted, depressed, and exhausted, listen to Affirmative Therapy for Caregivers. [Updated 11/11/2017: Link no longer operational.]
To receive long-term benefits from this Respite in a CD, I recommend that you also listen to this CD when you're relaxed during those non-workday moments before you rise or before you fall asleep.
Brenda Avadian, MA
The Caregiver's Voice Review Editor
TheCaregiversVoice.com
P.S. We will be presenting this CD to our next Caregiver of the Month.