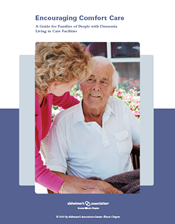 Although most of the estimated 5.3 million Americans with Alzheimer's disease live in the community and are cared for by their families, about two-thirds of nursing home residents have Alzheimer's disease and other types of dementias. In addition, more than half of the residents in assisted living facilities have dementia. Unfortunately, many family caregivers are not well prepared for the diverse challenges and medical decisions they will face as loved ones with dementia decline over time while living in care facilities.
In response, the Alzheimer's Association-Greater Illinois Chapter has developed a free online resource, Encouraging Comfort Care: A Guide for Families of People with Dementia Living in Care Facilities. This 21-page booklet provides useful information to families and staff of long-term care facilities about Alzheimer's disease and other dementias, particularly care issues related to the late and final stages.
Daniel Kuhn, MSW, co-author of the new guide, notes, "This guide will enable family caregivers to make informed choices about a variety of medical decisions they may face on behalf of loved ones with dementia living in nursing homes, assisted living facilities, and other types of care facilities. It will also equip families to ask good questions aimed at obtaining the best care for their loved ones, including a handy checklist of comfort care measures to be discussed with staff members of care facilities."
This new guide is also a valuable resource for staff members of long-term care facilities. Medical decisions such as tube feeding and hospice are addressed in the guide and will help staff introduce these sensitive matters to families. Co-author Jeannine Forrest, PhD, RN states, "The guide will enable staff to educate families and assist them in care planning."
Encouraging Comfort Care was made possible through a generous grant from the Retirement Research Foundation.
Editor's Comment: A  short information-packed guide that is free and easily downloadable as an Adobe PDF document. The "Comfort care in action" section includes six principles families can expect from nursing home staff who are serious about providing comfort care. The "Active Dying" section, following a discussion of hospice, is a real eye opener for family members whose loved ones are at the end of their lives. Recommended for caregiving family members (whether their loved one is at home or in a care facility) and the professionals who help them. Brenda Avadian, MA, TheCaregiversVoice.com