After running again in the Los Angeles Marathon, but only completing HALF of the 26.2 miles from Los Angeles' Dodger Stadium to Ocean Blvd in Santa Monica–I can still identify with this!
This morning…
I woke up,
I lifted my arms,
I moved my knees,
I turned my neck….
Everything made the same noise:
'CrrrrrrrrrrrrrraaaaaaaaaaaaaccccK!'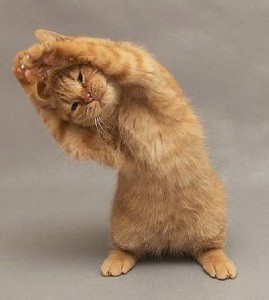 I came to a conclusion: I am not old,
I am crispy!!!
Will post photos within a week.
Brenda Avadian, MA
The Caregiver's Voice
Thank you, Sharon Price for sharing this.
Thank you to the unknown photographer and creative person who put these words with this cute picture of a tabby kitty stretching.