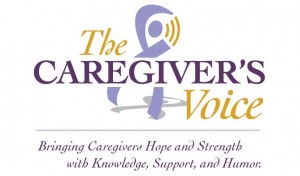 It's HEEERE–The Caregiver's Voice new logo!
Jessie Phillips incorporated your reasons and votes in her redesigns and we're happy to share with you The Caregiver's Voice logo-in-progress.
Although, the clickable logo to the left is one of four-color variations created by Jessie, I'd really appreciate it if you simply looked at this one page of logo design variations with the color scheme to the left—click this link to see PDF then let me know what you think.
I was disheartened that we could not use the bird in some way. It spoke to us on so many levels. For those of you who also liked the bird, I hope you'll forgive us as we move in this direction.
We were guided by two forces:
The Caregiver's Voice MISSION statement: Bringing caregivers hope and strength with knowledge, support, and humor.
Our desire to expand our reach among family caregivers and professionals with a stronger statement as we work to completely redesign The Caregiver's Voice website.
Again, please share your feedback.
What do you see, think, and/or feel when you look at The Caregiver's Voice new logo-in-progress?
What is YOUR IMPRESSION?
Please let me know. Your reasons why are most important, right now. You can include suggestions, too.
Brenda Avadian, MA
TheCaregiversVoice.com