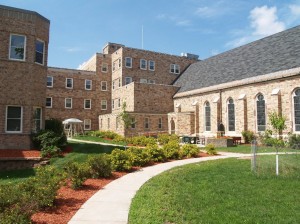 With more than 22 years of providing assisted living options for the elderly and listening to the needs and wants of our residents, Sister Peggy Jackelen, Administrator at Bell Tower Residence is proud to announce that the Wisconsin Department of Health Services (DHS) Division of Quality Assurance conducted a bi-annual licensure survey and found Bell Tower in complete compliance with Wisconsin Administrative Code HFS 83.
The Perfect Survey – What does it take?
Guest post by Linda Schmidt
In the ever changing face of assisted living it is a challenge to meet the increasing needs as individuals age and maintain a homelike environment while meeting State regulations. Keeping the focus on the individual and what he/she needs or wants, providing safe choices that enable residents to enjoy the highest quality of life is what we strive for.
Working with the Wisconsin Department of Health Services (DHS) Division of Quality Assurance not in an adversarial mindset but in a partnership advocating for the elderly is one of the most important aspects of a perfect survey.
Serving as advocates with the DHS to Wisconsin's elderly population by providing a safe, homelike environment is one of our goals. It is my pleasure to work with staff [members] who are attentive and understanding with our residents. We look forward to our continued partnership with the State of Wisconsin in maintaining the high standards we have established.   – Sister Peggy Jackelen
Professionals working together, building a relationship of trust and cooperation enables Bell Tower Residence to be a leader in assisted living. Our mission to promote the physical, mental, and spiritual well-being of each resident in a safe, caring environment is one of the many aspects discussed with an individual before s/he becomes a member of the Bell Tower Residence team.
Whether the relationship is between the regulator and provider, or the provider and resident/family member, the goal is to be the advocate for that individual. Each day providing opportunities for each resident to experience the highest quality of life possible is any given situation. Wouldn't we want this for ourselves when it is time to consider assisted living?
Read Part I of this article: Choose a place for your loved one
Linda Schmidt is the Director of Marketing and Admissions at Bell Tower Residence Assisted Living, a sponsored ministry of the Holy Cross Sisters. Bell Tower has been providing living opportunities to the elderly since 1990.
Brenda Avadian, MA of TheCaregiversVoice.com spent two nights at Bell Tower last fall when she presented a day-long seminar.