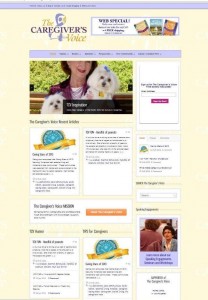 And now … a sneak PREVIEW of The Caregiver's Voice newly redesigned website.
After setting a goal to redesign and update The Caregiver's Voice website then dropping hints and announcing our upgrade plans in the Newsletter, we are close to launching The Caregiver's Voice new website.
Our aim is to be more compatible with today's diverse platforms–tablets and smartphones along with laptops and desktops. It's been only three years and technology keeps changing; so, Roberto Robles is charged with bringing TheCaregiversVoice.com to 2013 standards and beyond.
If all goes as planned, we'll receive a lot of helpful feedback (constructive and complimentary), integrate it, add the keywords, meta tags, title attributions, and overcome challenges we can't yet anticipate, we'll have a fully functioning updated website by (dare I say a date?) SOON!
FIRST, we need you to take a few minutes to do 2 things:
View a navigable PREVIEW of the beta TCV website (click on the image at the upper left of this post).
Send me an email with your initial reactions. You may also post your feedback in the comments section below. (Draft your comments first, save the text, then paste into comments box in case there's a glitch.)
SECOND, we need 5 caregivers and professionals to give additional feedback by phone in return for a private preview tour.
If you want to help then send me a reply with your name and telephone number and which 15-20 minute time period during one of the days and times listed below that you'll be at a computer to browse the new site as we talk together by phone. (I'll confirm your time by return email the call you.)
–  Friday, March 15 between Noon and 7pm ET /9am and 4pm PT
–  Saturday morning, March 16  11am  to 5:00pm ET/ 8am  to 2:00pm PT
–  Monday evening, March 18  7pm to 10pm ET / 4pm  to 7pm PT
–  Tuesday, March 19  Noon to 3pm ET / 9am to Noon PT
Your reasons why you say what you do are important to us.
Click on my name below to send me an email.
Brenda Avadian, MA
TheCaregiversVoice.com
P.S. Thanks to your feedback, Jessie Phillips is hard at work adapting the new logo for multi-uses.