Over 40,000 of Caring.com's members care for a loved one with Alzheimer's. To help them and you, Caring.com recently launched a customizable free resource that provides stage-relevant information, community support, and expert guidance.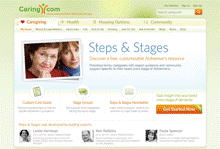 Caring.com invited The Caregiver's Voice to review their new Steps & Stages interactive program. I spent the past two weeks testing this new program; starting with creating a custom profile. This gives me access to the site and a way to connect with Caring.com members.
The Steps & Stages is a component of Caring.com's site.
First, what is the Steps & Stages interactive program?
Caring.com describes it as "a customizable–and completely free–Alzheimer's resource to help … Alzheimer's caregivers registered at Caring.com."
If your loved one is diagnosed with Alzheimer's, enter what you observe and you'll receive a free customizable resource a Custom Care Guide like this one: Sample Late Moderate Stage of Alzheimer's
Steps & Stages provides the caregiver…
an assessment tool to give insight into a loved one's stage of dementia.
practical tips in the Custom Care Guide on how to handle different symptoms.
support from communities of caregivers (in Stage Groups) facing the same stage of Alzheimer's.
an email newsletter on what to expect, what to do, and how to cope each week.
While reviewing the site, what went through my mind was: I wished this was available when I began caring for my father in 1996.
I don't know of any other site that offers such a comprehensive assessment and integrated resource.
Developed over the past year by a team of experts, including a practicing geriatrician, a geriatric psychiatrist, and other
Alzheimer's specialists, Steps & Stages is filled with advice to support the caregiver who cares for someone with Alzheimer's.
As Alzheimer's disease progresses and behaviors continue to change, Steps & Stages allows the caregiver to update a loved one's symptoms as often as necessary in order to receive relevant information.
How does Steps & Stages work?
Enter the site at Caring.com Steps & Stages and begin completing the information requested. Doing so will take you to another page where you can click on your loved one's memory symptoms as you observe them now.
Two-step process
To fairly assess the site's powerful functionality, I entered a composite loved one  named Josephina using the simple two-step process. (Since my father passed away in 2001, I created a combination of symptoms reflected by loved ones of caregivers I personally know.)
Free newsletter subscription offer
At this point I was given the opportunity to subscribe to the free Caring Steps & Stages: Alzheimer's Edition newsletter. I checked the box.
Further evaluation of loved one's symptoms
The next page offered me an opportunity to further evaluate four areas of  Josephina's symptoms using  an easy three-part scale (for example, rarely, sometimes, or often). From here, Caring.com is able to generate a Custom Care Guide that I will be able to update as Josephina's behaviors change.
Caveat…warning
In order for the system to give you meaningful information, be sure to complete the assessment as honestly as possible. Also, use either your loved one's first name or nickname–something you will easily recognize as the Customized Care Guide refers to the name you entered.
In case you're like me and wary at first of entering private information online, you may need to go back to re-enter your loved one's symptoms. Caring.com does not allow us to do this after setting up the care recipient's initial profile. I have asked Caring.com to allow caregivers to go back and change the information initially entered. They are currently reviewing this as others have also suggested it.
Receive Custom Care Guide
Given my responses; my Custom Care Guide indicates that Josephina has Mid Severe Stage of Alzheimer's. The guide offers a brief description of her memory, physical function, and emotions. It also gives me some direction as to what I can do about her symptoms. For example, it suggests that I "Be patient" when Josephina repeats questions multiple times each day, as reminding her that she just asked the question will do no good. It also suggests how I should interpret when Josephina doesn't know the difference between public and private behavior. In this case, one of the examples includes something that actually happened when I was caring for my father. While he and I were at a fellow caregiver's wife's birthday party, my father began unzipping his pants. The Guide explains that this may not be what so many of us thought–that he was trying to expose himself. Rather, it may be the only way he knew to express that he needed to use the bathroom.
After entering your information, you receive a follow-up eMail encouraging you to "Get the Most Out of Steps & Stages" with links to:
Subscribe to Caring Steps & Stages: Alzheimer's Edition–a weekly e-mail newsletter filled with tips, support, and insights, customized to your interests. You'll receive this invitation if you didn't subscribe earlier.
Get to Know Your Alzheimer's Stage Group This forum is as close to an online support group as you can get.
Visit your Custom Care Guide
As your loved one's symptoms change, log into your site and you're prompted with "Are you seeing this symptom?" You can either click on "Haven't seen it" or "[Your loved one's name] has this symptom." If you click on the latter you are given a choice of how often you see the symptom or to what degree.
Additional topics of information under the Caregiving tab (where the Steps & Stages Custom Care Guide is located) include Money & Legal Matters, Home Care, Housing, Blogs, and Ask & Answer.
Other pages on the Caring.com site focus on Health and Housing Options, plus a Community page. The Housing tab offers a Local Eldercare directory, which gives you valuable local resources after you key in your zip code or city and state. I looked for local adult day care centers and assisted living communities and was surprised to see the ones I recognize. Kudos to Caring.com for their data aggregation prowess.
Online Forum and Support Group
The Community tab/page allows you to find then participate in an online forum representing your interests at the time–for example Alzheimer's or Living Arrangements. The Ask & Answer tab under this Community link allows you to post your question to Caring.com's experts and community.
As more caregivers use Steps & Stages, the members in the online support groups will continue to grow. In-person support groups typically include people caring for loved ones at various stages of the disease or illness. While this gives you, caregiver an advantage to see where you have been and what to expect, Caring.com offers stage-specific support groups and sends you a note: We've matched you to caregivers like you – people who are providing care for someone in roughly the same stage of dementia as your loved one. They know what you're going through because they're going through it, too.
Weekly Steps & Stages – Alzheimer's Newsletter
Finally, you'll receive a weekly update via the Caring Steps & Stages Alzheimer's Newsletter, assuming you subscribed– to help you know what to expect, what to do, and how to cope week to week with stage-specific tips, support, insights, and humor.
Caring.com's Steps & Stages provides caregivers with a useful tool and foundation upon which to build awareness and knowledge of a loved one's condition. Although not as accurate as a detailed doctor's assessment, this is a start for many caregivers who feel lost and alone. Online forums, in-person support groups, and a visit to your loved one's doctor will arm you with enough information to provide better care. When I began caring for my father, I didn't know what I didn't know. (Yes, read that again.) Honestly, I didn't know what to ask. Steps & Stages gives caregivers a good start by bringing various facets of our loved ones' conditions to the light.
Get started now by clicking on: Caring.com Steps & Stages
Brenda Avadian, MA
Editor, TheCaregiversVoice.com
For an easy-to-view full-sized graphic of Alzheimer's by the Numbers in the U.S., click on image to the left.
Founded in 2007, Caring.com equips family caregivers to make better decisions, save time and money, and feel less alone = and less stressed – as they face the many challenges of caregiving.