Conversations in Caregiving Webcast – Nov. 15 with Leeza Gibbons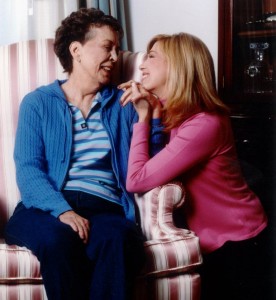 November is National Alzheimer's Disease Awareness Month and National Family Caregivers Month. More than 40 million Americans provide unpaid care for an elderly loved one, and over 15 million of them care for someone with Alzheimer's disease.
Guilt, resentment, anger, and grief. The stress and worry of caring for senior loved ones with dementia can quickly lead to "The 7 Deadly Emotions of Caregiving" in family members.
"Caring for a loved one with Alzheimer's can be such a difficult and lonely experience, and millions of family caregivers are unprepared and overwhelmed by the significant challenges they face in this role," says Andy Cohen, CEO and co-founder of Caring.com.
Join TV/radio personality and caregiver advocate, Leeza Gibbons, Caring.com's senior editor, Paula Spencer Scott, and others in this one-hour webcast, "Conversations in Caregiving," focused on Alzheimer's care on Thursday, November 15, 2012 at 8 PM EST.
"I've personally experienced just about everything that Caring.com covers, from dealing with dementia symptoms, to selling the family home and moving Dad, plus advance directives, end-of-life planning, hospice, death – and stress," says Ms. Scott. "In this webcast, I'll tackle some of the myths that challenge caregivers, share personal stories and research findings, and try to shine a light on some aspects of the caregiving journey that don't get talked about often."
With Caregiver Emotion Trap #5: Loneliness, for example, "Your world can shrink almost before you realize what's happened," writes Ms. Scott, in an article published recently on Caring.com. The antidote? Arrange for some respite help to get out of the house using the free directory of senior care agencies on Caring.com, or join a real or online support group, such as those included with Steps & Stages, which Ms. Scott helped develop.
For more information about "Conversations in Caregiving," or to join the webcast discussion, visit: AlzheimersDisease.com. For those seeking professional Alzheimer's or memory care service providers in local communities within the United States, Caring.com offers a free online Senior Care Directory with consumer ratings and reviews to assist in the selection process.