One afternoon, during a tour of an assisted living community, where I was scheduled to speak later that evening, my host invited me to the activity room. She suggested I watch how the residents were engaged in activities, while she excused herself to assist a resident.

I saw men and women occupied, some engaged with one another, others working on puzzles, reading, or watching television. Along one of the walls sat a well-dressed man … his face carrying an expression of pure desperation. I looked at him a moment or two. His hand reached out to grasp something I could not see.

I focused on him, then slowly made my way toward him. As I neared where he was seated, his mouth opened and out came a silent cry: HELP! I approached slowly until he looked up and moved his hand toward me.

I reached out with both of my hands, clasping his hand in mine. His eyes veiled an unknown desperation as he cried softly: HELP!

I leaned toward him, my face directly in front of his, and I looked deep into his eyes. He looked at me, earnestly. I could feel him relax … and then I said: Everything will be alright. His eyes lit up, then he looked away as he gently pulled his hand from mine. Returning his gaze once more to me, he leaned back, and began to smile.
It has been said:
To the World You May Be One Person But to One Person, You are the World.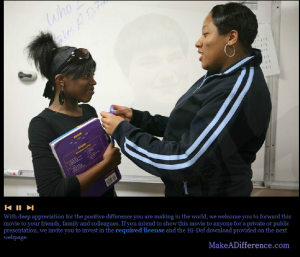 A dozen years earlier, in 1988, a teacher in New York acknowledged and honored every one of her high school students. Then she invited her students to honor people throughout their community.
One of these acknowledgments dramatically altered the life of a businessman and his fourteen-year-old son. Author, Mary Robinson Reynolds, and founder of Heart Productions & Publishing says, "It is a reminder to us to speak those compliments and acknowledgments as we are thinking them and not hold back because we just never know when our presence may be the very present someone needs." What a grand time to practice acknowledgment. And Dads, please take five minutes during this Father's Day weekend,  to be inspired by this message so movingly conveyed in the Acknowledgment Movie and to acknowledge members of your family who will treasure your words for years to come.

This movie reminds me to keep trying to live my life in such a manner that one day, when I'm feeling lost in a strange room filled with people I do not know, that someone will come, look into my eyes then take my hand to comfort me that everything will be all right.
It that moment that person will be my world.