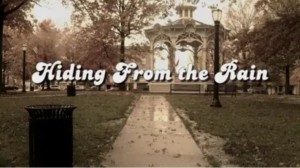 Jeana Potthoff and Rich Roman wrote a song entitled Hiding from the Rain.
We hope the song will touch people's hearts and move them to support organizations working on a cure and providing services to the caregivers.     — Rich Roman
Rich made the song into a video.
Rich's and Jeana's families have been impacted by Alzheimer's –Jeana's grandparents and Rich's father (dementia).
This film is dedicated to
the caregivers who tirelessly give their love and help
to those afflicted with the devastating disease of Alzheimer's.
The victims of the disease will forget us.
Let's Not Forget Them. 
This touching video unfolds in a cafe and through the lives of a loving couple who is torn by the onset of Alzheimer's. (Time: 6 min. 37 sec.)
For more information click on Hiding from the Rain on CDBaby.