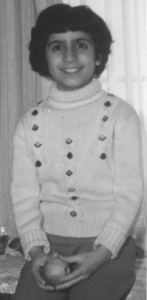 The older we get the faster time passes. But seriously now, has it been THAT long?
I remember my mother advising me not to waste time. As a child I didn't get it – time seemed infinite. It took forever to get through the 3rd grade, the 4th, 5th, and 6th!
She used to say in Armenian, "The seasons come and go so fast, I can't even keep track."
What does she mean?
I can distinctly remember suffering through the long Wisconsin winters and the April/May rains, only to enjoy a too-short summer before having to go back to school. The fall and winter days were a lot longer then.
It's been 20 years today (has it really been THAT long?) since she died of congestive heart failure. A petite woman who looked like Mother Teresa in her later years; she also cared for those who couldn't care for themselves. She was a caregiver for lost and hungry stray cats, dogs, birds, and other assorted animals.
She would have been 92. Is it a coincidence that she died on April 1st – April Fools' Day? Of all days to die. And how is it that of 365 days in a year, my father (who took that picture of me) died 8 years later on March 31st, the day before. He would be 102.
Our loved ones may be gone but they remain in our hearts forever.
Brenda Avadian, MA
TheCaregiversVoice.com
Related remembrances:
What would I ask Mom if she were still living?  6 questions Brenda Avadian would ask her mother if she were still alive.
"I want to go home."  Our loved ones with dementia often say this. Why? 3 steps to helping you deal with this.