I love my mother deeply. She was diagnosed with Alzheimer's disease. It seemed to come on suddenly, while she was staying with my brother. That I might be losing my mother was a most painful realization.
We decided to move her to Colorado, near where I live. I didn't think about it, I just knew I had to act.
Over time and with medication she has settled in and feels comfortable in her new home—the Alzheimer's unit.
Mom is like a child, having fun and meeting new people. She likes to dance, and is the life of the party. She has a great sense of humor and a smile that fills the room.
My parents divorced when I was a child. I don't remember her smiling much.
In her new home she no longer has worries and is proud to have raised five children by herself, including a set of twins. She taught us about life and is proud of what we have become.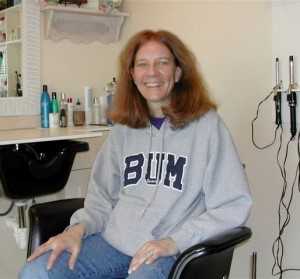 I visit and share pictures with her often.
Recently I gave her a picture of me wearing a comfortable sweatshirt with the "BUM" logo.
Rather than framing it behind glass, which can be dangerous for the residents, I taped it on the wall. During a later visit I noticed that part of the word "BUM" was missing from the picture. I asked, "Mom, why did you scratch at the picture like that?"
"You're not a bum. You are the best daughter I have," she replied.
My eyes filled with tears. On my next visit I brought new pictures and covered the hole with a different picture. She just smiled, happy once again.
Lynn S. Keane
Colorado Springs, Colorado
Edited version of pages 109-110 of Finding the JOY in Alzheimer's: When Tears are Dried with Laughter