In this guest post, Jay Kraker, addresses questions often received by Ask The Caregiver's Voice. Is it okay to get angry?  How can I deal with my negative emotions while caregiving? (TCV Ed.)
Caregiving can stir up a buffet of negative emotions.
In twenty-plus years of caregiving, I've felt anger, resentment, sadness, guilt, frustration, fear and shame many times.  I've also felt love and joy. It's taken nearly that long for me to accept these feelings as "normal," and to process them in healthy ways.
Background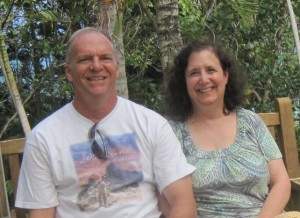 My wife, Sue, was diagnosed with multiple sclerosis in 1980 and it has evolved in ways that aren't "typical." Even today, her motor skills are fairly good. Her most significant challenges are very unreliable short-term memory and difficulty with anything that resembles multitasking. Some of these symptoms first became noticeable in the late 1980s. Over the years, frustration and anger have surfaced most often for me when dealing with the consequences of these cognitive challenges.
My own journey dealing with these emotions has been life-changing.
Like most American males, I learned early that "big boys don't cry" and that I was "supposed to be strong" enough to handle whatever comes my way.

I could have saved myself a lot of grief had I recognized earlier that those adages aren't true. But it's never too late to learn.
Handling Negative Caregiving Emotions
The first step forward is to know that your anger (or any negative emotion) is okay, provided you don't repress it continuously. Instead, acknowledge it. Know that your feelings are normal, and allow yourself to feel them as fully and safely as possible.
I strongly recommend that you find friends who will be with you periodically in person or by phone, and allow you to fully express what's on your mind while venting the tears, anger or other emotion that flows naturally. Your friend should agree to listen in confidence, without judging or giving advice. In return, you can offer the same support when s/he needs it. Generally, it's better to do this with someone other than the person who has triggered your negative feelings.
Today I have a list of friends I can call to arrange a "session" to vent and release. I am free to do so without making Sue feel upset, guilty, or afraid that she is a burden. Moreover, my friends know I'm there for them. As a result, my energy is higher, my mood lighter and my productivity greater than it would have been. For these friends, and for the process that Michael and Linda Vaughn taught me for this, I'm eternally grateful.
For more details, please visit The Empowered Caregiver Network and join us for our monthly, phone-based support group.
Jay Kraker, Founder
The Empowered Caregiver Network