Thank you for helping The Caregiver's Voice Website and Blog be recognized as a FINALISTS in 2 categories of Senior Homes BEST of the Web (click on 2 links below):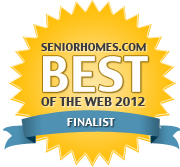 The Caregiver's Voice
Best Websites & Newsletters for Caregivers 2012 [Updated 10/2/2017 with available archived link]
The Caregiver's Voice Blog
Best Senior Living Blogs by Organizations 2012  [Updated 10/2/2017: Link no longer available.]
This is the second year we've made it to the finalist category. Will the third time in 2013 will be a charm? WAIT! The judges have not yet selected the winners yet!
Senior Homes panel of judges will be selecting two winners per category:
One People's Choice Winner (based on popular vote)
One Overall Winner as determined by average judges' ratings
Maybe 2012 will be our year!
Thank you for your support. The recognition that comes with being a finalist helps us reach out to more families and professionals.
TOGETHER we'll raise the bar of awareness about caring for loved ones with dementia such as Alzheimer's, FTD, LBD, and more.
Brenda Avadian, MA
Alzheimer's / Dementia Caregiver, Expert Spokesperson, Coach, and Author
Editor, TheCaregiversVoice monthly Newsletter and The Caregiver's Voice Book Review