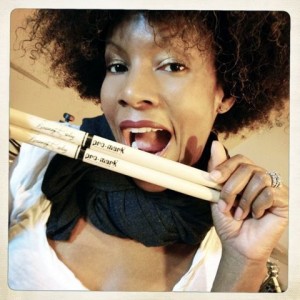 Guest post by Jessica Burns for DFGS

Three years ago, Shauney Recke founded DRUM FOR GOODNESS SAKE (DFGS), an organization created to encourage drumming as an activity and as a form of exercise that strengthens cardio while enjoying the excitement of drumming.
Exposed to music at a young age; Shauney's father was one of the founding members of the popular 70s R&B group, the Delfonics. After graduating from the Duke Ellington School of the Arts, Shauney embarked on a successful music career as the "drummer of choice" for some of the world's top talent.
Shauney (aka Shauney Baby), is a celebrated international female drummer who has toured with Sting, the Pussycat Dolls, Nikka Costa ,and Will.i.am (of the Black Eyed Peas), among others.
Drumming takes a lot of stamina, energy, timing, and even memorization. Yet, drumming, whether as recreation or even as a therapeutic activity, contributes to a healthy and active life.
DRUM FOR GOODNESS SAKE offers an innovative program for people in continuing care settings who live with dementia and other diseases and illnesses.
Some of the health benefits of the DFGS program include:

Body Toning
Decreased anxiety and depression
Increased energy
Increased mental stimulation
Reduced fatigue with low-resistance playing
Dennis Hiebert, Activity Coordinator for Hollenbeck Palms (a Continuing Care Retirement offering residential living, assisted living, and 24-hour skilled nursing on one campus), discusses briefly the benefits of DRUM FOR GOODNESS SAKE and why it's been requested each month for nearly three years. Click on the link.
DRUM FOR GOODNESS SAKE (DFGS) operates out of the Los Angeles area. For more information about the DFGS program, click on DFGS-LA's Facebook page. Follow DFGS on Twitter or call 323-876-5173.