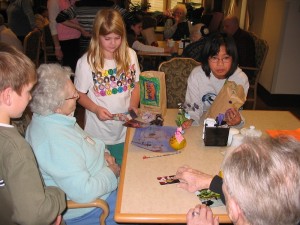 Guest post by Linda Schmidt
Have you had to choose a place where your parent, spouse, or other loved one will live? Is it a daunting, nerve-wracking experience that challenges every emotion? It doesn't have to be.
Start by researching local options that will meet the needs of your loved one. If it is an assisted living community, call to schedule or just stop in for a tour. It's important to find the right match of a community's personality that best fits the needs of your loved one.
Some questions to ask when visiting a residential community:

What assistance is available and by whom?
Does the community have an RN on staff?
Is there ever a situation/health issue that the community cannot handle?
If more assistance is required will it be provided or will s/he have to move?
What are the costs and what happens when a resident outlives his/her finances?
How long has the community provided assisted living services?
Is the community licensed by the State? Have they been surveyed regularly? What are the outcomes?
Each resident has a unique personality, daily living habits, and needs. Flexibility and choices are required to meet the resident's comfort level while providing person-centered care. Something as basic as offering a choice can make all the difference.  "Do you prefer a shower or whirlpool bath? When do you prefer to bathe–in the morning or evening?"
Giving residents a choice and being flexible helps build a relationship of trust between the resident and staff person. Each day, we ask ourselves, "Is this how I would want my grandparent to be treated?
Developing a relationship and listening to the resident and family members is an important part of providing optimal care. 
– Linda Schmidt, Bell Tower Residence

For more information, read The Perfect Survey – What does it take?
Linda Schmidt is the Director of Marketing and Admissions at Bell Tower Residence Assisted Living, a sponsored ministry of the Holy Cross Sisters. Bell Tower has been providing living opportunities to the elderly since 1990.
Brenda Avadian, MA of TheCaregiversVoice.com spent two nights at Bell Tower last fall when she presented a day-long seminar.