Instead of sharing the Easter holiday with my husband's family as we typically do, I asked David if we could stay at home to be near my father.
He agreed.
I felt a little sad about missing the traditions of Easter with David's family.
To enjoy a more festive time, I decided to invite my other "family"—caregivers in our support group to our home.
Several of the caregivers found themselves in similar situations; wanting to stay near their loved ones or not burdening their children.
Since we support group caregivers only knew each other for a few years, we didn't have the family history that often adds stress to family gatherings.
Not knowing what to expect, we anticipated an enjoyable gathering of caregivers. We didn't expect what happened.
We learned new things about each other.
We laughed, we ate, we talked, and we drank.
We shared family recipes and traditions.
We had a GREAT time!
We enjoyed our time so much, David and I continued the tradition; even after my father was no lo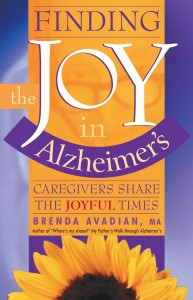 nger with us. We rotating the year's holidays and celebrated birthdays and anniversaries with our caregiving family.
Adapted from Finding the JOY in Alzheimer's: Caregivers Share the JOYFUL Times,  p. 73
Brenda Avadian, MA
TheCaregiversVoice.com
Caregivers, if you're in the same boat, why not invite a fellow caregiver or two to share your holiday? Make it a potluck. At least, you won't feel so alone. And you may even be surprised by the outcome!