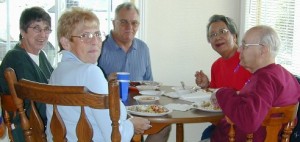 Finding the JOY in caregiving may feel impossible, especially during the holidays. Sometimes, we need a new approach when celebrating the holidays.
Instead of the traditional gathering with family, how about a caregiver potluck holiday?
Most family members can't comprehend what it's like to be a caregiver.
Unlike family members who aren't actively involved in caring for a loved one, caregivers understand what your days are like and understand your highs and lows. Family members can't know or feel what it's really like to care for one with a cognitive impairing disease unless they are the ones providing care. It requires a unique person who is willing to accept not being recognized even while providing care for a loved one with dementia.
As my husband and I dove deeper into caring for my father with Alzheimer's, we couldn't feel as satisfied sharing our struggles and joys with our non-caregiving family and friends. The experience was just too foreign to them–they just couldn't comprehend.
Instead of celebrating holidays with my husband's family as we typically did, we decided to stay home and near my father.
But how could that be fun when he didn't even know who we were? How would we enjoy the holidays when he didn't even appear to care which holiday it was?
We weren't the only ones who felt this way. Caregivers from our support group agreed. They wanted to stay near their loved ones. Some didn't want to burden their adult children.
Time to do something about it.
Celebrate with your caregiver family.
We held our own holiday party.
BOY, did we have fun!
Since we only knew each other for a few years, we didn't have the family history that often adds stress to family gatherings.
We didn't have any expectations beyond enjoying the company of those who understood best  what we were going through.
Since we had no expectations the unexpected happened.
We learned new things about each other.
We laughed, we ate, we talked, and we drank.
We shared family recipes and traditions.
We had a GREAT time!
We enjoyed our time so much, David and I continued the tradition; even after my father was gone.
Try it! Invite a fellow caregiver or two to share your holiday. You can even invite your loved ones. Make it a potluck. Then let us know how it went.

Adapted from Finding the JOY in Alzheimer's: Caregivers Share the JOYFUL Times,  p. 73
Related article: Celebrate Easter with Caregiving Family