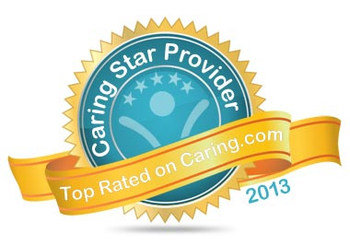 Caring.com announces their Caring Stars of 2013, featuring "America's best assisted living and Alzheimer's care communities."
These communities were selected from ratings and reviews posted to the Caring.com site "by senior residents, their families, and eldercare experts."
This year, Caring.com recognizes 383 assisted living and Alzheimer's care communities in 40 states. Click on page to open then scroll down for the list by state.
Andy Cohen, cofounder and CEO of Caring.com, notes that 10,000 baby boomers are turning 65 every day. The U.S. Census Bureau predicts that by 2030, nearly 20% of Americans will be age 65 or above.

"Choosing the right senior living situation can be one of the most difficult decisions that individuals and families make," Cohen said. "The Caring Stars of 2013 demonstrate excellence in what matters most to seniors and their loved ones, and these service providers are an inspiration to everyone concerned about this very important issue."
Each community is linked to easily provide you with more information in addition to a link to information about other communities nearby.
For more information, click on the Caring Stars Program.
Sometimes, the most loving thing you can do
is to place your loved one.
Brenda Avadian, MA
Editor, TheCaregiversVoice.com
The Caring Stars of 2013 award is based on consumer ratings and reviews that were posted on Caring.com between December 15, 2011, and December 1, 2012. To qualify, the community had to receive: three or more reviews during this timeframe, at least one of which being a 5-star rating; an overall average rating (across all reviews on their listing) equaling greater than 4 stars; and no unresolved negative reviews.