In this edition of ASK The Caregiver's Voice, we answer a media query for stories of caregivers who find happiness.
The Caregiver's Voice was pleased to receive a query from a writer for a national newspaper who was writing about the joyful side of caregiving.
Attention to the POSITIVE is an IMPORTANT MILESTONE.
When we consider how much stress caregivers endure trying to survive the challenges of caregiving; any story or pictures that can bring hope and JOY will be of value.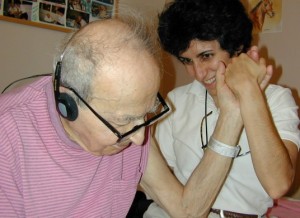 Once my husband and I realized we were committed (we should have been committed!) to caring for my father after moving him from his Wisconsin home of forty-five years into our California home, we decided to have FUN with it.

When things got ugly and we were at the end of our rope and strangling him seemed like a good idea, we laughed. Seeing us laugh during a particularly trying time, my father laughed too.

We were amazed at how quickly emotions can turn from murder to JOY and laughed harder still.
After telling similar candid caregiving stories, caregivers felt empowered to share their own. These are featured in Finding the JOY in Alzheimer's
The important outcome: Once we agree to take on the role of caregiver (or more likely, fall into the role) that we make the best of it.
Many (including me) have grown from the role.
We've witnessed our lives transform as our views about the people and things inour world change; our priorities shift, and we emerge with a growing need for compassion and patience.
If you are a caregiver and witnessing major shifts for the better in your life, please share your story. We are currently collecting stories for Finding the JOY in Caregiving.
Additional examples from our two Caregivers of the Month who have found ways to find the joy as found by clicking on these two links:
For those who want to feature stories that bring JOY, please contact us.
Brenda Avadian, MA
Editor, TheCaregiversVoice.com