There are moments in all caregivers' lives when we wonder,
"Can I survive as a caregiver?"
And if we manage to survive, some may ask:
"Is it too much to ask for a Sprinkle of Joy?"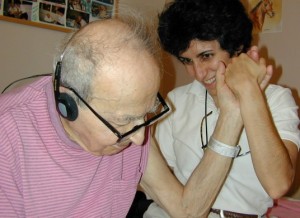 While caring for my father with Alzheimer's, my husband and I realized we had a choice. We could:
grow distraught at the finality–the "dead end" road upon which my father walked. After all, Alzheimer's is a terminal disease–there is no cure…not yet
or
make it fun and try to find the joy each day.
Finding the JOY in caregiving made caring for him a little easier considering we lived with so much stress, we thought we were getting Alzheimer's trying to keep up with his care! There's a name for this: caregiver dementia.
How did we survive and then find the joy?
Tune in.
Click on this sentence to join Trudy Thomas and me this Friday, October 22, 2010 at noon (ET) for a one-hour live call-in show.
LIVE call in number: 1.347.884.9691 (NY area code)
Based on my popular keynote, Can I Survive as a Caregiver? By the way, is it too much to ask for a Sprinkle of JOY?, we will have a joyous yet realistic one-hour live call-in show.
And if you want to have daily inspiration, pick up a copy of Finding the JOY in Alzheimer's: When Tears are Dried with Laughter.
Brenda Avadian, MA
Caregiver Spokesperson, Advocate, & Author
Editor, TheCaregiversVoice.com