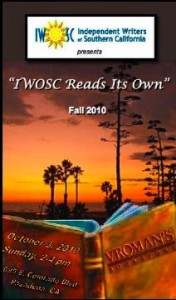 This Sunday, October 3rd, from 2 – 4 pm, I will join selected authors of IWOSC–click on image to left for more information–to read from our respective books.
I will be reading excerpts from "Where's my shoes?" My Father's Walk through Alzheimer's.
If you're in the area, I'd love to see (or meet) you!
Vroman's is one of the last great independent bookstores remaining.
If you can't attend but know of people who care for a loved one (what I'll be reading about), would you help them by inviting them to attend? Let me know if they plan to attend and I'll be sure to give them a warm welcome.
Brenda Avadian, MA
www.TheCaregiversVoice.com