Long-distance Caregiver in Ontario, Canada asks:
How do I go about having my 93-year old aunt with dementia assessed?
She does not want to leave her home. Yet, her neighbors (who referred us to you) have been assisting her with day to day living. My aunt has no family in the United States and lives alone. My brother and I visited her in October to persuade her to move into assisted living, but she refused.

She has severe scoliosis and falls after losing her balance. She stays in bed some days into the early afternoon, saying her back is sore. She rarely takes her medications and has kidney problems. Although she doesn't remember her husband died, her conversations for the most part make sense.

Her neighbor believes she needs a geriatric assessment. Our concern is her health and safely. We hope you can help.
TCV Answers:
It depends on whether you want to let nature take its course and be available and supportive or whether you want to push things a little (maybe A LOT).
Either way, when you try to get someone who is competent to do something and she doesn't want to do, even if it's for her own good, you face the challenge many caregivers face.
If you let nature take its course, you will need LOTS of patience.
If you're able to spend a couple weeks with her and build her confidence and trust in you, she just may agree to move. She's afraid. Any of us would be. She wants certainty. Change is scary.
As a quick example, it took me three years to persuade my father to visit me in California. He finally agreed after I patiently spent morning through late nights with him across two weeks. I needed a vacation after that, but it was only the beginning. I bought a one-way ticket and he never returned to his Wisconsin home of 45 years.
There are no quick fixes.
Having her assessed is a good option and a geriatric care manager could help advise you and provide workable options such as in-home care, adult day care, residential care, or assisted living.
Know that once she receives an assessment, this may start the ball rolling. The stress of change may prove detrimental, which will weigh heavily on your and your brother's hearts.
The best approach if you can manage it is gentle ongoing in-person persuasion.
If you are her fiduciary, hire someone to sit with her for several hours at different times during the day/evening/night to assess informally how she's doing. Over time, this person can gently persuade her to consider her options. This could be a professional or the neighbor who she already knows.
CAVEAT: If you're visiting her for a few days or even a week each time, you may be missing the whole picture.
Loved ones with dementia can hold it together for a period of time. It's only with continual face time that you'll begin to witness your aunt's real condition.
You can also consider a home monitoring system–whether a whole home monitoring system or a portable pendant.
Philips Lifeline debuted GoSafe at the 2013 Consumer Electronics Show (CES). This is a mobile personal emergency response solution (PERS) that also has an automated notification feature when someone falls, which your aunt is likely to do given her scoliosis. GoSafe will be available in March. Again, though, you'll need someone responsible to follow-up.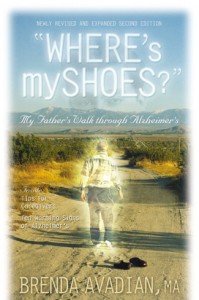 Until then, pick up a copy of "Where's my shoes?" My Father's Walk through Alzheimer's (yes, this is my book) as your experience right now has similarities to mine.
Brenda Avadian, MA
Alzheimer's / Dementia Caregiver, Expert Spokesperson, Coach, and Author
Editor, TheCaregiversVoice monthly Newsletter and The Caregiver's Voice Book Review