Last week, we received an early Christmas present – we may be one step closer toward understanding the mystery of Alzheimer's.
The New York Times reports that a study has uncovered a different view of beta amyloid, one of the proteins charged with causing Alzheimer's. Instead of thinking that a person's brain with Alzheimer's produces too much of the protein, the new study finds that the brain is producing a normal amount but not getting rid of the excess, which then forms into sticky plaque-like substances that chokes nerve cells.
Furthermore, the results of this study have researchers exploring whether tau, the other protein charged with causing Alzheimer's, might play a role in balancing the amount of beta amyloid accumulated in the brain.
The sacrifice of the study participants is beyond inspiring–36 hours with a catheter in their spinal column.
For more on the study's findings, please visit Insights Give Hope for New Attack on Alzheimer's
More research is pending. We have reason to hope.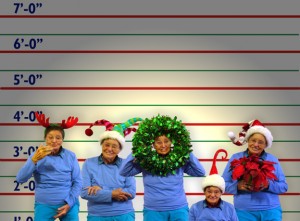 For a little bit JOY, revisit Unique Caregiving Tips for the Holidays. Carol Wright, our Caregiver of the Month of November provided us a photo today that we added to our TIPS to make you laugh.
Thank you to Ann Vanino of Moving Forward Coaching & Consulting for bringing this to the attention of The Caregiver's Voice.