Are you a goal setter?
How do you feel when you set a goal and then don't achieve it?
As an avid goal setter since as long as I can remember–since age ten–I have learned a thing or two about setting and achieving goals.
SETTING GOALS is GOOD.
Having unyielding expectations are not.
Allow me to share a recent example.
Seventeen years ago, I decided to run in the Los Angeles Marathon as soon as I turned fifty. For more about this goal, please read: Author Begins Marathon Training.
Unfortunately, I made the difficult decision NOT to run in this year's LA Marathon. This was devastating because I felt I squandered seventeen years. Sure, I started training with gusto…until I blacked out. (Did you read the linked article above?) I backed off and did a lot of "mental training." I renewed my training commitment several years ago when a friend decided to bike from California to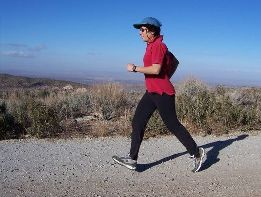 Chicago along Route 66 for his 60th birthday. But, I let obstacles get in the way. That was until six months ago when I realized: Brenda, if you're going to run this race, you'd better get out there and pound pavement!
I gave it my all…ran up to nine miles in 105 minutes along hilly terrain at mostly 5,000-foot elevation. But, seven weeks before the marathon, we had a cold spell (of many) up here in the mountains of southern California where I live. I was running a radiant heater in my home office when I got up. Not paying attention, I tripped over an electrical cord and did a number to my big toe. I tried to train through the pain. It only got worse. I compensated for the pain, which affected my right hip.
It was a choice between being fully incapacitated and meeting this seventeen year goal or recognizing my limits–I'm fifty, not an elite athlete, and I don't heal as quickly.
If at first you don't succeed…
REMAIN COMMITTED to ACHIEVE YOUR GOAL
Instead of giving up because my expectations were not met to run the Twenty-fifth Anniversary Los Angeles Marathon this year, I now know what I need to do to be ready for 2011.
Next year, we won't have another Station Fire; three evacuations; snow, wind, and rain storms; a new roof, gutters, and downspouts installed; and seven months devoted to upgrading The Caregiver's Voice website.
Surely there will be other obstacles, but I'm committed and will know what I need to do to prepare. I may even have fun running my very first marathon next year!
As my long-time marathon mentor, Dr. Barry Bauer, explains (paraphrased): It's better to feel good about yourself as you're training for your goal than to not be prepared and feel frustrated at not being able to achieve it.
WORK HARDER with the extra time available to be BETTER PREPARED.
This year, with a new route (Stadium to the Sea), I will attend the marathon and sense the energy and visualize this experience during my training runs.
Furthermore, I will have the time to promote my run and use this opportunity to raise funds for a good cause–The Caregiver's Voice of family and professional caregivers for brain impaired adults. Will you join me?
Until then, you'll find me in the hills of southern California pounding pavement where the biggest risks will continue to be cars, mountain lions, bob cats, coyotes, big-jawed dogs, and ??
Brenda Avadian, MA
Founder, TheCaregiversVoice.com