Do you want your caregiving story published?
Not a week goes by when a caregiver calls or writes asking how to write a book or get his/her story published. After years of responding to each inquiry, I prepared a series of three articles for aspiring caregiver authors.
First, ask yourself, do I want to write a short story or a book?
If you want to write a short story that's uplifting and brings HOPE and JOY to caregivers, click to SUBMIT your story for consideration in the upcoming Finding the JOY in Caregiving.
If you've always wanted to write a book…
… read the three articles below. Read and digest each before finishing your manuscript and spending your money on too-good-to-be-true offers. What's low-cost on the surface will cost you dearly going forward. Invest your time and money, wisely.
1. Ask The Caregiver's Voice – How do I write a caregiving book?
There are four steps to becoming a published author of a book for caregivers. Tapping an undiscovered niche is key to uncovering a goldmine of speeches and international sales. Warning: It's harder to do today, but it can be done. 
2. Your Caregiving Book – Write and Get Noticed
These key steps in researching your colleagues' work (competition) will help you take the right course of action toward being noticed.
3. Book TIPS – Getting your Caregiver Book Published
After you've completed Steps 1 and 2, the last step is getting your caregiver book published. This article reviews today's publishing options and how to build a platform.
Several years ago, former caregiver Charles Schoenfeld asked me, "How do I write a book?"
An innocent question asked many times by well-intentioned caregiver-turned-writers, that demands a not-so-easy answer.
After all, I've been in publishing for 22 years and I'm still keeping up with publishing's ever-changing landscape!  
So, I responded to Schoenfeld, then forgot all about him. (Sorry, Chuck!)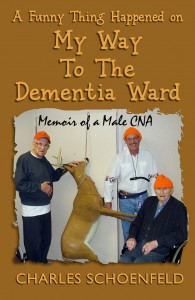 About a year later, he wrote (paraphrased): My book is finished. Would you be willing to review my manuscript? Of all the budding authors who contacted The Caregiver's Voice, this retired UPS driver-turned Certified Nurses Assistant (CNA), accomplished what few do. 
At first, I hesitated reading that pile of pages, but soon, I couldn't put it down! After some editorial feedback, a review posted to TheCaregiversVoice.com, and A LOT of effort by Schoenfeld and his wife, Chuck is touring, speaking, and signing copies of his book. Click to read The Caregiver's Voice Review of A Funny Thing Happened on My Way to the Dementia Ward.