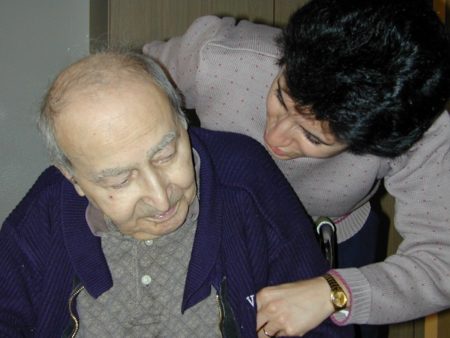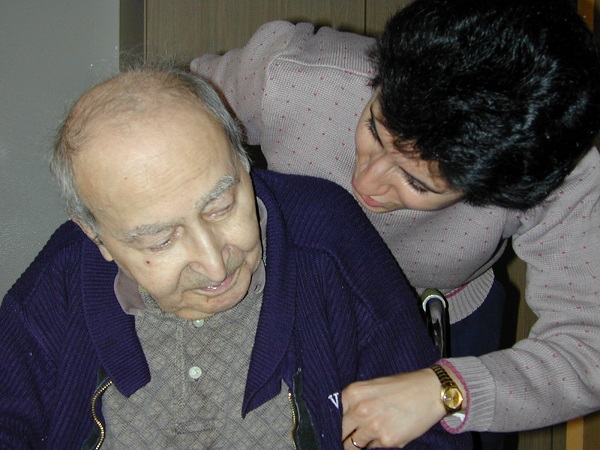 What if I only visited my father who was living with dementia and then returned home? What if I refused to be a caregiver? After all, my brother and sister were right there. Why was I getting involved from 2,000 miles away?
But there was something special about our relationship. I came into this world on my father's 49th birthday.
On the anniversary of becoming a caregiver, I reflect on that day, 20 years ago.
I walked up the stairs to my childhood home, opened the screen door, and knocked on the heavy oak door. I was surprised when my father opened it immediately. Being profoundly deaf, he rarely heard someone at the door. Unknown to me, this was a concern among the Milwaukee County on Aging representatives who had gotten involved. On this hot and humid August afternoon, I lucked out. He was on his way from the living room through the foyer to the kitchen when I knocked on the door.
Fast forward through hundreds of hours and little sleep while organizing a fraction of his papers. He and I were on his first commercial airplane flight bound for Los Angeles. He had agreed to visit my husband and me in California. Except, I bought him a one-way ticket.
I feared the move from his familiar Wisconsin home of 45 years to the High Desert of California would kill him. After all, if his brain was being destroyed by dementia, he'd have a harder time adjusting to the southeastern edge of the Mojave Desert than a person without dementia (PWoD).
Much has changed in dementia and caregiving over the years.
Twenty years ago, there were an estimated 16 million people with dementia, worldwide. Today's three-fold increase to 47 million is a hint of the near 300% growth we'll see in the coming years, unless there's a cure.
More people with dementia (PWD) are speaking about their experiences. If we take time to listen and invite more PWDs, there's a lot we can learn from their first-hand experiences.
With greater awareness, we're making progress in reducing the stigma. September is World Alzheimer's Month [Link updated 9/7/2017] (#WAM2016) and kicks off a series of recognition months such as National Lewy Body Awareness Month in October followed by National Alzheimer's Awareness Month in November and National Family Caregivers Month in the U.S.
As I reflect on two decades, I muse upon the choice I made to become a caregiver.
Pros and Cons of Being a Caregiver
CONS of Caregiving
Giving Up My Lifestyle
Actually, it wasn't much in hindsight. My husband and I worked, Worked, WORKED. We tried saving as much as possible to retire early and travel. But we lived an "If this happens, then we will ______" style of life — the same one I observed in my parents… and then there was the economic crisis in 2007-2008 that took care of any early retirement.
Broken Family Ties
My siblings and I stopped communicating. Can I blame this on caregiving? I'm not sure. Our relationship was strained during our upbringing, but not to this degree.
I wrote an article for US News and World Report HEALTH about my caregiving experience, conflicts with siblings, and how to overcome then in How to Manage Sibling Squabbles When Caring for an Aging Parent.
Income Went Kaput
As my days were increasingly occupied by caregiving, my corporate consulting took a back seat. Although, I give speeches, I still wish I could pay my vendors more of what they deserve.
PROS of Caregiving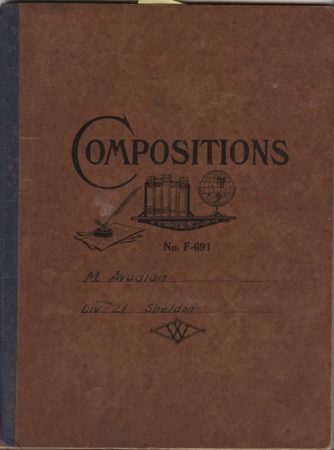 Learned About My Father's Early Years
Since I came into this world when my father was almost 50, I knew little about his early years. Finding his brown composition book from 1928, I read to him what he wrote about seeing his father for the last time and then coming to the U.S. by boat at age 10.
My father would have died within the year, if no one got involved.
He was already getting lost, being disoriented, and living dangerously. He'd position a space heater under his blankets and then walk away. He didn't want to waste anything, even long-expired food.
Grew Closer to Distant Family and Others
With severed relations among us siblings, I reached out and received gifts of recollections about our family from my aunts, uncles, and cousins. I also built a new family among fellow caregivers.
Learned What Matters in Life
By caring for my father, I learned what really matters in life. It's not so much about what I have, but how I live my life. Life is about enjoying experiences with others.
Would I do it again? YES.