One of the benefits of being a tail-end baby boomer is being the beneficiary of leading-edge boomers who refuse to grow older. This means, instead of being limited as to how and where we'll live our later years, we have greater options, to live independently.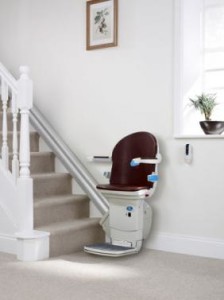 For example, as arthritis (that's what the doctors seem to label stiffness of the joints) becomes an unwelcome companion in my knees, stairs become an issue. No longer can I walk up and down the stairs without thinking about safety.
In years past, when I watched elders climbing and descending my stairs with difficulty, I knew what we had to do. We installed two handrails — one on each side — to ensure safer use of our stairs. Now, I am the beneficiary of these handrails.
What happens when I can no longer climb or walk down the stairs without unbearable pain?
I've teased my husband to expect one of those motorized stairlifts my uncle used as Parkinson's made it difficult for him to navigate the stairs. Back then, I was more agile, and the stairlift seemed too slow as I bounded up two stairs at a time waiting for my uncle to reach the second floor.
Aging becomes a constant balance of weighing our options. If it's too painful to walk up and down the stairs and safety becomes a constant issue, then it's time to look at tools that will enable us to remain independent for as long as possible.
When you consider the time, cost, and stress of moving to a single-level household or even to residential care, it seems to me, a more reasonable interim step is to do what we can to preserve our independence.
One option is found among the products offered by one of The Caregiver's Voice supporters — Age UK Mobility.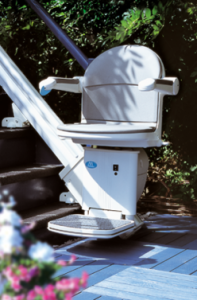 They offer a series of products including baths and showers, rise and recliner chairs, walking aids, and new and used stairlifts. In fact, I didn't realize they made them in a variety of models to accommodate not only straight staircases but curved ones as well and stairs outdoors. WOWEEE! Now, I won't have to install a zip line on my five-acre rural parcel! 😉
Unlike others in my fifty-something age bracket, I don't fight growing older. The gray hairs on my head are testament to surviving the challenges of life and gaining greater wisdom each year. Heck, how many couch potatoes set a goal in their thirties, then run a full 26.2-mile marathon after age fifty, and then follow that with a half-marathon, the following year?
Surviving and thriving in life is about overcoming challenges. And, as arthritis becomes more of an annoying companion, I'll be sure to weigh the options made available to us baby boomers who refuse to grow (oops, I mean give) up. I still have a lot of work to do helping caregivers care for people with dementia.