Dear Caregiver,
Want to have a new and different experience, this Thanksgiving?
Find a friend or family member who is planning to deep fry a turkey and make sure you get an invitation.
You're entitled to this. You're a caregiver.
You shouldn't have to manage one more thing.
It's a once-in-a-lifetime-experience. At least, that's what I thought after coordinating deep-fried-turkey preparations, two years ago.
YOU deserve a break on Thanksgiving.

Until we prepared our deep-friend turkey, I thought turkeys were meant to be stuffed and roasted in the oven.
Who knew?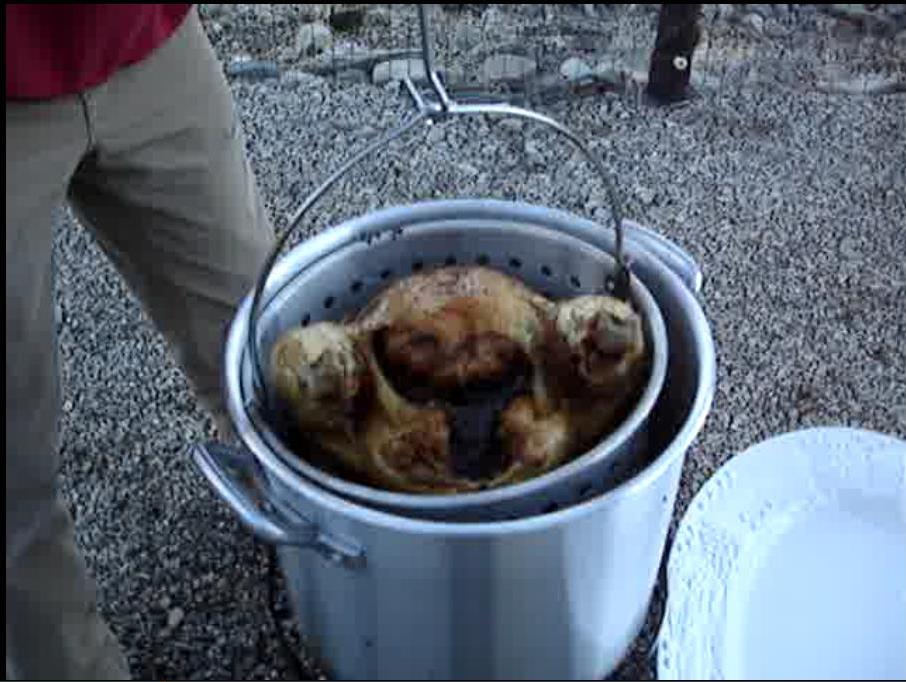 Deep frying a turkey is actually an adventure, filled with FUN and results in one tasty turkey!
As a caregiver who deserves gratitude, it's time to call in a favor.
Those who OWE YOU (BIG time) for being the primary caregiver for Mom or Dad (or anyone else), will want to show you how grateful they are this ThanksGIVING for your careGIVING.
And you know what? The turkey will be ready in less than half the time!
First, share the following with your friends and family, so they can do their part this Thanksgiving.
Tips for those ready for a deep-fried-turkey adventure:
To determine how much oil you'll need…
Place the turkey still sealed in its wrapping into the deep fryer basket and lower into the fryer container.
Fill with water until the turkey is covered.
Remove the turkey.
Mark the water level on the outside of the fryer.
Then wash the fryer throughout being careful not to wash off the water-level mark you made.
Fill to the level you marked with a high-smoke point oil. We used peanut oil.
For more tips, from cleaning and brining the turkey to measuring the correct amount of oil and when to remove for a crisp-on-the-outside and tender-on-the-inside Thanksgiving turkey, click on the image at the top of this post. Choose from the numbered selection of one-minute YouTube videos labeled "Deep Fried Turkey" for a delectable turkey this Thanksgiving.
Then let us know how it went!
For more click to read:
Related topics: caregiver, deep fried turkey, gratitude, Thanksgiving