WELCOME to our 3-book special!
You'll find caregivers' stories of JOY caring for a loved one with Alzheimer's / dementia and the Best-Selling Audiobook. WOWEEEE!
Help your loved ones get rid of the toxic cluttergories in their lives, including physic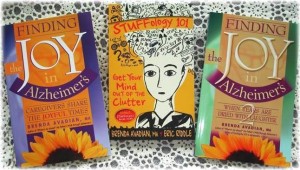 al, mental, and temporal categories of clutter.
This offer is usually available to conference attendees, but we have expanded our discount offering to our loyal website visitors.
Share the cost with another caregiver, give one as a gift, or keep them all for yourself.
For YOU, this three-book special

for only $35!
That's
30% off

the regular price including shipping!

ONE copy of each of the following three titles (click on titles for more info) or BUY NOW:
FREE SHIPPING
Shipments to U.S. Addresses Only